Residential Service Tour
Posted by Dustin 6 years, 2 months ago
Way back in 2010, our founder Matt was frustrated by the total lack of composting options available to him, and set out to change things. Over the last 6 years, our team has been hard at work, building the easiest and most enjoable composting solution on the planet. 
Our subscription composting service makes it simple for our members to live their values while composting in comfort. In this post, we answer your questions about how our collection service works, tour some of our lesser known features, and take a look at what some of your neighbors are saying about their experience with CompostNow.
How The Service Works
After you sign up online, we deliver your Starter Kit within seven days, which includes your very own CompostNow bin and "what's compostable?" fridge magnet.   
Once you receive your bin, simply tuck it away in a corner of your kitchen and fill it with your food scraps. Then each week on collection day, we'll drop by to swap your full bin with a fresh clean one for the next week.  Who knew sustainability could be so simple?
Our service is clean, reliable, and a lot of fun. Best of all, it fits seamlessly into your routine. Think of us like your own personal compost fairy. We wisk away your scraps and take care of all the dirty work, so you can spend more of your time doing what you love. 
What happens to your Scraps?
At this point, you're probably wondering about where all those food scraps are going once they vanish from your front porch.  Saved from their wreched fate in the landfill, we shuttle your compostables to a nearby commercial composting facility, where they are broken down over time into a rich natural fertilizer. Now, any good gardener knows that the key to growing healthy plants is to feed your soil, and as a CompostNow member, you earn back some of this high-quality compost every week that you use the service. Then when it's time to fertilize your lawn, garden, or potted plants, simply request a compost delivery through your member online dashboard and we deliver it directly to your front door on your next collection day. Or if you're not much of a green thumb and would rather share the wealth, you also have the option to send your earned compost to a local garden of your choice.  Request it when you need it, share it when you don't. 
You Get Complete Control
We started CompostNow with the goal of creating the world's easiest and most enjoyable composting experience. That's why we designed the online member dashboard to give you total control over your account. Once you sign up, you will be able to login to the CompostNow website and access your member dashboard. From the dashboard, you can manage billing & recurring payments, check your service date, set vacation holds on those weeks you're out of town, and update your compost give back settings, all with just a few clicks!

Small Action, Big Impact
By joining CompostNow, you are literally pulling bucket loads of food scraps out of the waste stream each week, and investing it directly into your local food system. Our average household composts about 15 pounds a week with us.  That translates to five pounds of fresh compost, which can grow the equivalent of 5 tomatoes. Composting with us means you make less waste and help grow more food.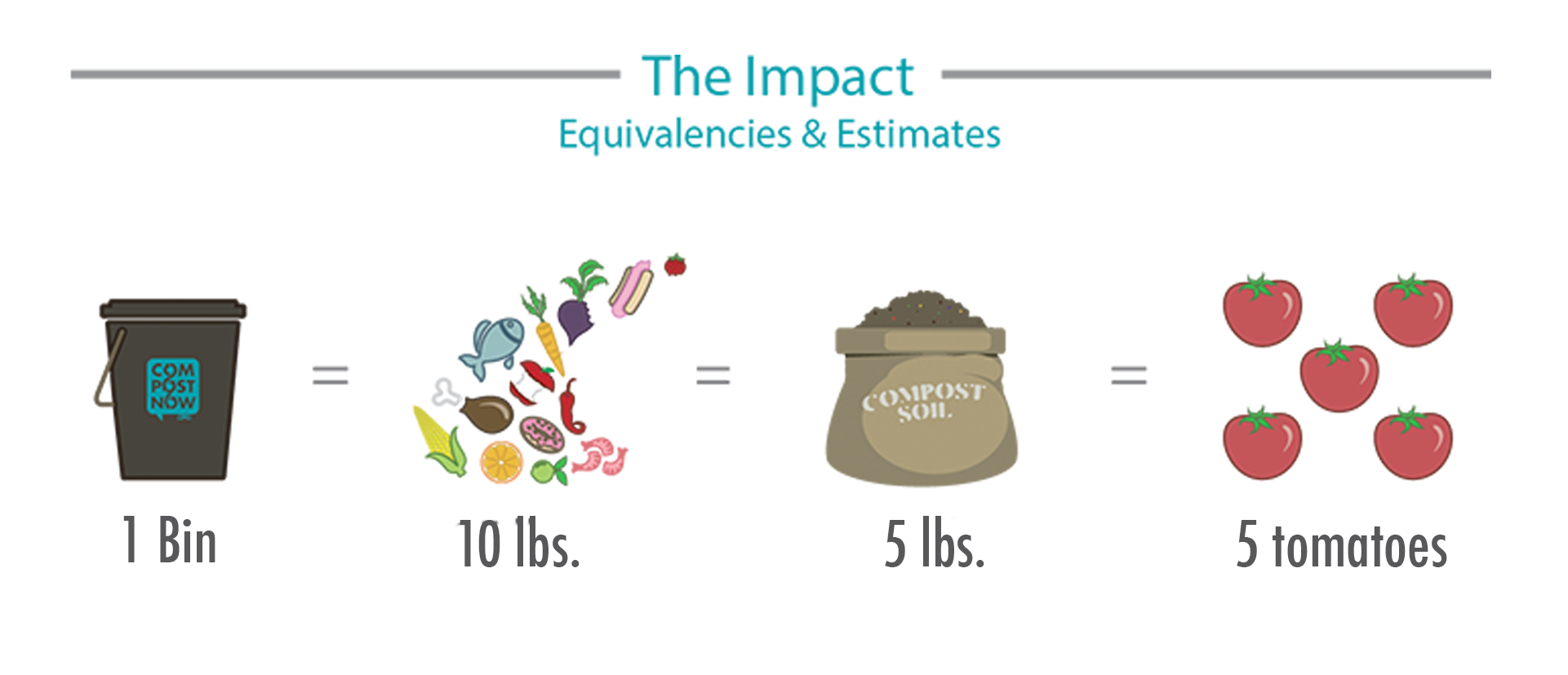 Is this Service Right for You? 
We created this service for people like you: city dwellers who care about their planet and your community, but may not have the time or space to compost on their own. We know you want to do the right thing, that's why we... Here are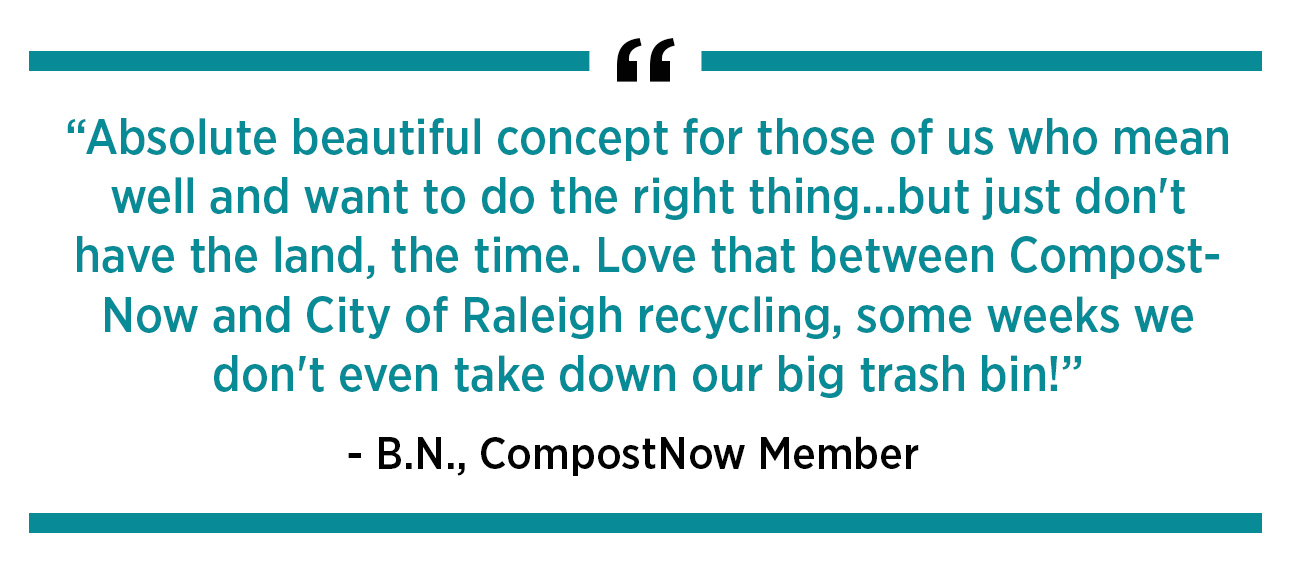 Long-time member Anila Y. says: "I've been using CompostNow for about half a year now, and I have to say I love it! The folks at CN make it so easy to do good for the community and your bodies. Ever since I started composting, I've started eating healthier (more fruits and veggies) because I like seeing my bin full every week!"

Still on the fence? Looking to the future, it's clear that composting is just the next logical step after recycling. Soon, tossing your banana peels in the CompostNow bin will be as commonplace as dropping an empty bottle in the blue cart.  That said, we're eager to help you live your values, now. We are so confident that you will fall in love with our service, that we're willing to offer you a two week free trial period. Test the waters, try us on for size, and if you're not thrilled after two weeks, no harm done and zero charge to you!